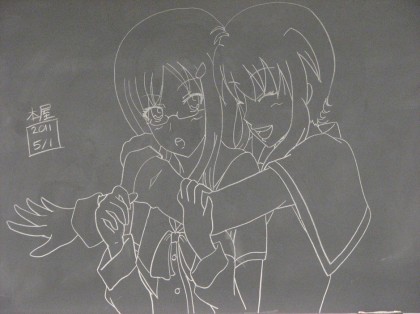 After 57 episodes, I have finally arrived at the very last edition of Yuri on the Chalkboard. Unfortunately due to some unforeseen events yesterday, I couldn't do it normally so I had to go to my usual room early this morning to draw instead. This final iteration of Yuri Chalk is the most personal one of all, even more so than the previous two. The pair of girls pictured above are best friends Mugi and Hitomi from my personal writing project under the working title ATCG. Although not related, Hitomi's family took Mugi in after the deaths of her parents. Hitomi and Mugi are nearly inseparable just like sisters though the both of them never admit their true feelings to each other. They are close friends with the protagonist and Samantha making up the core cast of the first arc in my story. Anyway you can read a excerpt from the rough draft below if you want:
"Now that everyone's here and relaxed let's get started with today's business" Hitomi addresses us.

"Tell us! Tell us!" Sam exclaims excitedly.

"As we all know a new year and a new semester has started which mean it's time to start thinking of how to better ourselves for the new challenges we must face. I mean of course the new spring fashions!"

Sam has a smirk on her face while Mugi has an expression of embarrassment.

"It's important to have Mugi looking her best wherever she goes so this weekend we'll be taking an expedition to the shopping arcade in search of cosmetics and clothing!"

Hitomi's in her own world now and there's no stopping her.

"Let's go over the game plan first. We'll meet up at our house and walk over to the LOOP station and take it to the shopping district."

Somehow this seems way more convenient for them than it does for me.

"We'll hit up the usual stores and look for the best looking outfits and accessories. Afterward we can even go have a bite. You'll try on some clothes too, right Dai?"

"I think I'll pass. Shopping for clothes is a spectator sport."

"Oh but you don't want to try on some pretty dresses?" Sam asks in a pouty voice. "You'd look fabulous in a summer dress and coral lipstick."

"No way!"

"But you used to like doing it as a kid!"

"That's because you used to bully me into it. And hey, didn't I say we would never mention this!" I scream out as I pin her into a headlock. I know this is futile as she breaks free. We quit before it get serious but it's not something I like to talk about. Before long it's time for Sam to head off to work. I stick around a little longer until it gets dark before deciding to make my leave.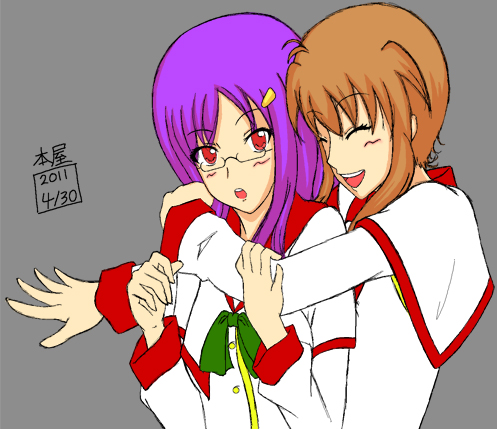 At the beginning it is very slice of life comedy but quickly spirals into the realm of sci-fi. It's kind of hard to describe it anymore without just posting the story online. Unfortunately I haven't completed it yet so cannot do so but hopefully I can make some more progress soon. The story has been floating around inside my head so long that it has really taken on a life of its own. I need to put it down in writing before I go crazy!
With this my duties as my anime club's Director are finally at an end. These 3.5 years have been incredible. For anyone in my club reading this, please do not pick up this tradition again and to instead find a new one. Thank you so much everyone!