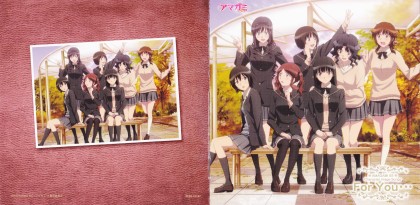 So Project Amagami is finally back! The first song I decided to release was Ai's last image song which translates to Sandy Beach of Happiness since she's one of my favorite characters. The other girls' songs will start trickling out as well as I get around to proofreading the translations as well as add romanizations since I never bothered to do those. As for the song itself, I like the water imagery used and how generally sweet it is. As a side note I'll be adding the seiyuu names to post titles from now on. Anyway, enjoy!

Romaji
Yuuyake sora Nobiru kage ga kasanaru
Kaerimichi de tsunaida te ni
"Nani wo tereteru n desu ka?" hohoemi
Mitsumeaeba toki ga tomaru
Afuredashita kono kimochi Tsutaeta ano yoru
Yorokobi zutto wasurenai Forever
Suiheisen hirogaru Shiawase no sunahama ni
Futari no ashiato ga tsudzuiteru
Daiji na no wa kitto Mune no oku de sotto Kanjiru kono nukumori
Furikaereba soko ni wa Kodomo mitai na egao
Watashi wo yasashiku tsutsunde kureru
Itsumade mo zutto daisuki desu I love you
Kami wo nabiku Sukoshi tsuyoi shiokaze
Mitsumeru shisen Aikawarazu…
"Doko wo mite iru n desu ka?" tanoshii
Jareau jikan nagarete yuku
Kuyashinamida uketomete Dakishimete kureta
Ima demo zutto oboeteru All for you
Namiuchigiwa ni egaku Kieru koto no nai koi
Miageta yozora ni nagareru hoshi
Kokoro no naka motto Tsukamareta no gyutto Atatakai kokochiyosa
Mijikai toki no naka ni tsumekomareta omoide
Hitomi wo tojireba kagayakidasu
Kore kara mo zutto tsudzuiteku Love story
Futari deatte Ima made no ARUBAMU mekureba
Hitotsu hitotsu Taisetsu na Memories
Uchiyoseru kono omoi Odayaka na nami no oto
Sasayaki kanaderu Koi no MERODI
Futari no kyori motto Chikadzukitai sotto Soba ni irareru shiawase
Tobikomu ude no naka wa Itsumo sunao ni nareru
Itsudemo yasashiku tsutsunde kureru
Kore kara mo zutto daisuki desu I love you
Tsudzuiteku Love story Futari dake no Story
English Translation
The shadows get longer and overlap as the sky turns to sunset.
Holding hands on the way home,
I smile and ask "What do you have to be so shy about?"
When we gaze at each other time stops.
That night I told you my feelings as they poured out.
I will always remember the joy I felt, Forever.
On the sandy beach of happiness extending across the horizon,
Our footprints continue on.
What is important is surely this gentle warmth that I feel deep in my heart.
When I turn around I see your child-like smile.
You shower me with kindness.
Forever and always, I love you.
My hair sways a little under the strong sea breeze,
And I see you glancing over just like always…
Having fun I ask "Where are you looking?"
When we flirt, time just flows away.
You put up with my annoyance and hugged me tightly.
Even now and forever I remember it, All for you.
The love drawn on the beach will never disappear.
We looked up to see the stars flowing across the night sky.
In my heart I was gripped even more tightly by a warm comfort.
I've been filled with so many memories in such a short time,
That when I close my eyes I can see them start to shine.
From now on and forever, our Love story will continue on.
As we page through the album from the time we met up until now,
One-by-one each is filled with precious Memories.
These thoughts break onto shore with the sound of gentle waves,
As the melody of love plays softly like a whisper.
I want the distance between us to narrow gently, finding happiness just being able to be with you.
I can always be honest when I dive into your arms.
You always shower me with kindness.
From now on and forever, I love you.
Our Love story will continue on, a Story just for the two of us.
Kanji
幸せの砂浜
作詞:伏見和行/作曲:津波幸平/編曲:津波幸平/
歌:七咲逢(ゆかな)
夕焼け空 伸びる影が重なる
帰り道で繋いだ手に
「何を照れてるんですか?」微笑み
見つめ合えば時が止まる
溢れ出したこの気持ち 伝えたあの夜
喜びずっと忘れないForever
水平線広がる 幸せの砂浜に
二人の足跡が続いてる
大事なのはきっと 胸の奥でそっと 感じるこのぬくもり
振り返ればそこには 子供みたいな笑顔
私を優しく包んでくれる
いつまでもずっと大好きですI love you
髪をなびく 少し強い潮風
見つめる視線 相変わらず…
「どこを見ているんですか?」楽しい
じゃれ合う時間流れて行く
悔し涙受け止めて 抱きしめてくれた
今でもずっと覚えてるAll for you
波打ち際に描く 消える事のない恋
見上げた夜空に流れる星
心の中もっと 掴まれたのギュッと 暖かい心地よさ
短い時の中に 詰め込まれた思い出
瞳を閉じれば輝きだす
これからもずっと続いてくLove story
二人出会って 今までのアルバムめくれば
一つ一つ 大切なMemories
打ち寄せるこの想い 穏やかな波の音
ささやき奏でる 恋のメロディ
二人の距離もっと 近づきたいそっと 側に居られる幸せ
飛び込む腕の中は いつも素直になれる
いつでも優しく包んでくれる
これからもずっと大好きですI love you
続いてくLove story 二人だけのStory