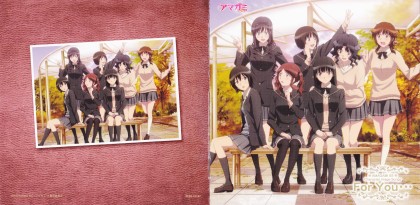 Ayatsuji's I Believe is a very relaxing song. I like White or Black? a little more purely because of how hilariously tsundere it is but this song has hints of that as well (maybe tsundere isn't the right word but there sure is a lot of teasing and dominating). Maybe I should do that song next? Anyway enjoy!

Romaji
Houkago to akaku somaru kyoushitsu
Daiji na kimochi Dakishimeta
Attakai senaka wo omoidasu
Koi tsudzuru DAIARII Hiraite
Afureru omoi
Zutto uketomete kureru
believe you everyday Shinjiteru
Furimukeba Itsumo
Anata ga Ite kureta ne
Ushiro no seki no ohitoyoshi
Furimukeba Kitto
Anata ga Hohoemu kara
Mae mite Aruite ikeru
Fushigi ne Ari no mama de irareru
Sotto yakusoku Dakishimeta
Massugu na hitomi ni Utsurikomu
Konna kao suru no ne, Watashi mo
Gomakasenai kokoro
Minuiteta n da ne
be with you everyday Daisuki yo
Ki ga tsukeba Itsumo
Tonari de Tasukete kureta
Komatta kao sae Itoshikute
Dare mo kidzukanai
"Watashi" wo mitsukete kureta
Arigatou I love you, forever.
Kami Nadete
KISU shite
Nukumori kanjite
Furimukeba Itsumo
Awatete Hashitte kita
Asamoya hikaru Sakura saka
"Shiawase ni suru wa"
Anata ga shiawase nara
Watashi mo shiawase na no
English Translation
The time after school and the classroom dyed red,
I held those precious feelings close to my heart.
I remember the warmth of your back,
When I open my love-stitched diary.
My thoughts overflow,
And you always accept them.
I believe you everyday.
Every time I turned around,
You were there with me,
The kind-hearted person sitting behind me.
When I turn around,
Because surely you are smiling,
I can look ahead and walk forward.
Isn't it strange that we can be together like this?
We gently promised and held each other tightly.
This expression reflected off your honest eyes,
You know, that's me too.
With a heart that can't deceive,
You saw through it, right?
I can be with you everyday because I love you.
Every time I noticed it,
You were right there helping me.
Your troubled face is so lovely.
No one else noticed,
But you found the real "me."
Thank you, I love you, forever.
Caress my hair,
Kiss me,
And feel my warmth.
Every time I turned around,
You would come running in a panic,
Shining through the morning mist and the hills of cherry blossoms.
"Make me happy!"
If you are happy,
I'll be happy too.
Kanji
I Believe
作詞:Ur./作曲:大森俊之/編曲:大森俊之/
歌:絢辻詞(名塚佳織)
放課後と朱く染まる教室
大事な気持ち 抱きしめた
あったかい背中を思い出す
恋綴るダイアリー 開いて
溢れる想い
ずっと受け止めてくれる
believe you everyday 信じてる
ふりむけば いつも
あなたが いてくれたね
後ろの席のお人好し
ふりむけば きっと
あなたが 微笑むから
前見て 歩いていける
不思議ね ありのままでいられる
そっと約束 抱きしめた
まっすぐな瞳に映り込む
こんな顔するのね、わたしも
誤魔化せない心
見抜いてたんだね
be with you everyday 大好きよ
気がつけば いつも
隣で 助けてくれた
困った顔さえ いとしくて
誰も気づかない
"わたし"を見つけてくれた
ありがとうI love you,forever.
髪 撫でて
キスして
ぬくもり感じて
ふりむけば いつも
慌てて 走ってきた
朝靄光る 桜坂
「幸せにするわ」
あなたが幸せなら
わたしも幸せなの