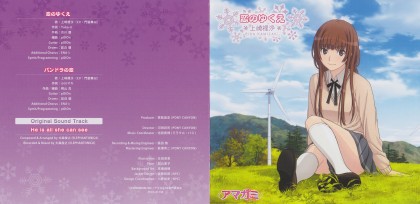 Following up on yesterday's post is Risa's other song Pandora no Koi which translates to Pandora's Love. The song pretty much fits her episode including the silly milk thing. Unfortunately for Risa fans this is also her last song and it doesn't seem like she'll get more exposure in the sequel but I guess there's always a slight chance. Anyway a different girl will be making her appearance tomorrow so look forward.

Romaji
Hitotsu Hitsotsu Mirai he Ah
Himitsu wo Uchiaketara Kitto
Kono koi Owatte shimau wa…
Decchiage no shashin Setsunasugiru ne
Tsurakatta no Ohiru no MIRUKU
Nonde kureta Anata no toriko ni
Ano shunkan kara PANDORA no koi
Lovin' you
Hitotsu Hitotsu Mirai he Ah Ima
Subete wo Ukeirete kureru
Anata no yasashisa Kanjite…
Zenbu tsugunatte Honto no kanojo ni naritai
Otona ja nai Atashi de ii no?
Demo ganbaru wa Sore wa Mada himitsu♪
Issho nara daijoubu PANDORA no hako
Akeru wa
Hitotsu Hitotsu Mirai he Ah Ima
Unforgettable milk love
My love began then, sweet memory
settle some mistake,
once again, try again, start again, with you
Anata to ima Narande aruku
Tada sore dake Sasayaka demo ii
Te wo tsunaidari shitai Oozora no shita
Kitto
Mi mo kokoro mo Kirei ni natte
Modotte kitara Kanaete hoshii no
Futari de no Yakusoku PANDORA no koi
Only you
Hitotsu Hitotsu Mirai he Ah Ima
English Translation
One-by-one towards the future, Ah
If I open up and reveal my secret surely,
This love will come to an end…
The altered photo hurt too much, right?
Milk for lunch was painful,
But you drank it for me and I was captivated by you,
From that moment on it was Pandora's Love,
Lovin' you
One-by-one towards the future, Ah, now…
You accepted everything,
I feel your kindness…
I want to atone for everything and become your real girlfriend.
I'm not mature but are you fine with me?
But I'll try my best though that's still a secret♪
If we're together things will be okay,
I'll open Pandora's Box.
One-by-one towards the future, Ah, now…
Unforgettable milk love
My love began then, sweet memory
settle some mistake,
once again, try again, start again, with you
I'll walk with you side by side now,
It's modest but just that much is fine,
I want to do stuff like hold hands under the heavens,
Surely.
I'll cleanse both my body and heart,
And when I return I want it to come true,
Our promise, Pandora's Love,
Only you
One-by-one towards the future, Ah, now…
Kanji
パンドラの恋
作詞:小川マキ/作曲:横山克/編曲:横山克/
歌:上崎裡沙(門脇舞以)
ひとつ ひとつ 未来へ Ah
ヒミツを 打ち明けたら きっと
この恋 終わってしまうわ・・・
でっちあげの写真 せつなすぎるね
つらかったの お昼のミルク
飲んでくれた あなたの虜に
あの瞬間から パンドラの恋
Lovin' you
ひとつ ひとつ 未来へ Ah 今
すべてを 受け入れてくれる
あなたの優しさ 感じて・・・
ぜんぶ償って ホントの彼女になりたい
オトナじゃない あたしでいいの?
でも頑張るわ それは まだヒミツ♪
一緒なら大丈夫 パンドラの匣
開けるわ
ひとつ ひとつ 未来へ Ah 今
Unforgettable milk love
My love began then, sweet memory
settle some mistake,
once again, try again, start again, with you
あなたと今 並んで歩く
ただそれだけ ささやかでもいい
手を繋いだりしたい 大空の下
きっと
身もココロも キレイになって
戻ってきたら 叶えて欲しいの
二人での約束 パンドラの恋
Only you
ひとつ ひとつ 未来へ Ah 今