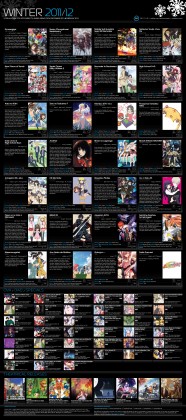 With only a couple weeks left until the next year I decided to do my seasonal watch list now before the rest of the month passes me by. As usual the list is roughly in order of my overall anticipation though a lot of the shows on the lower ends are actually tied with many others. Most of what I'll be watching are related to series and franchises I'm already following so the list of "new" anime is fairly low. Also as always I've skipped anything which has already started being released. Anyway onto the list.

Definitely Watching
Smile Precure
Considering how I decided to watch all of Precure this year and accomplished the goal by compressing 7.5 years worth of episodes in a mere 4 months it's only natural that this makes the top of my list. I've been anxiously awaiting any new information for the past couple of months including the rumors that it would be called Smile and would feature 5 Cures. I was so excited when both were confirmed and I'm really liking everything else that I've been finding out about it. A lot of it reminds me of Yes! Precure 5 (GoGo!) which is a good thing since that happens to be my favorite. The costume designs look great especially in this promo poster. My guess is that Happy, Sunny and Peace will be similar to Dream, Rouge and Lemonade respectively though March and Beauty look like they'll have different personalities than Mint and Aqua. Also Cure March's transformation supposedly has the most oomph of them all. The extra bang in her transformation is rumored to have something to do with her being special compared to the others so I'll be looking forward to seeing if it is true.
Another [PV1] [PV2]
Ended up accidentally reading half of the manga version thanks in large part due to its subdued creepiness. I don't really want to elaborate my thoughts much further since that would ruin the mystery. I'll just say the first part of the mystery was simple for me to infer the answer to. As such I wasn't surprised when it was confirmed in the middle of the story but did enjoy the theme it's building up. Patiently waiting to see if I'm also right about the second part of the mystery.
Amagami SS+ plus [Tsukasa PV] [Rihoko PV] [Ai PV] [Kaoru PV] [Sae PV]
The original Amagami was one of my favorite things of 2010 so it isn't so surprising that the sequel ranks highly on my list. In retrospect after rewatching some episodes recently it really is quite an odd series but that doesn't change the fact I really really love it. Most looking forward to Ayatsuji and Nanasaki material but I like all the other girls as well. The actual PVs don't feature anything new and just shows scenes from their respective arcs so obviously don't watch them if you don't want to be spoiled. Before anyone asks Haruka's PV should be out on the 23rd since the website has been counting down to Christmas with them. EDIT: Almost forgot but please give Rihoko Good End!
Senhime Zesshou Symphogear
I don't really know much about this but I'm sold on the idea of a musical unit who also wear powered suits to fight monsters. It sounds very vaguely like a mahou shoujo which helps. Also OP song by Mizuki Nana.
Zero no Tsukaima F [Announcment PV] [Promotion Movie PV] [ZnT Series PV]
Zero no Tsukaima is one of the shows which pretty much defines my high school era anime viewing. It's been several years since I've seen them but watching the series PV brings back the memories. Princess no Rondo was setting up a huge finale so it'll be nice to see what'll happen. With Shana also ending in the winter season it will be an interesting spectacle to see both iconic series draw to a close.
Nisemonogatari [PV]
I probably didn't like Bakemonogatari as much as most people but I still enjoyed it. I'm actually more interested in the prequel Kizumonogatari but adventures with Ararararararagi's sisters is fine too.
Aquarion EVOL [PV1] [PV2]
Quite enjoyed the original Aquarion so much so that I ended up watching the entire thing in a single sitting including the OVAs. A lot of its charm is the sheer combination of silly and cool things like Gen's lesson's, Apollo messing everything up, insane mecha powers, gattai, AKINO's legendary songs and so forth. This clip featuring one of my favorite scenes in the anime pretty much sums everything up. The sequel seems to be bringing back most of the things I liked from the original plus new things like multiple Aquarions from the get-go. Excited to see Apollo and Silvia's reincarnations meeting each other again after 12,000 years.
Natsume Yuujinchou Shi
As I've watched the previous 3 seasons I'll also be watching this of course. Not much else to say which I haven't already said before.
Papa no Iu Koto wo Kikinasai! [PV] [CM Spot Sora] [CM Spot Miu] [CM Spot Hina]
I read a few chapters from the manga version and was slightly amused. From what I read there isn't too much that makes it stand out. For example the main character is pretty much the typical male lead who doesn't have anything together when it comes to girls. The sisters themselves are nice though. Hina is way too cute and Sora has this awkward relationship going on not to mention her penchant for panty shots. Then there's Miu who's just chilling and rolling with whatever comes along.
Black★Rock Shooter (TV) [PV]
In a similar fashion as above I ended up liking the BRS OVA more than most people since I had no absurdly high expectations for a show based on a short music video. It worked out quite nicely since I enjoyed it as a strange yuri anime instead. I'm pretty sure we'll get more of the same but I am okay with this.
May Watch at Some Point
Rinne no Lagrange [PV1] [PV2]
From the PVs this looks kinda interesting. It seems like a relaxing show to watch which kinda goes with the catchphrase at the end of the PV. The mecha also has a strange but sleek design to it. Not really sure what else to say since there isn't too much to go on. Perhaps a good idea would be to wait and see what people think after the first season is finished and if it's good I can just catch up before season two which will be airing during the summer.
Tantei Opera Milky Holmes 2
I'll admit that Milky Holmes is strangely hilarious but it's not exactly at the top of my priorities compared to everything else. As such probably not going to pick this up for now. Perhaps at a later date.
Specials / OVAs / Movies
To Heart 2 Dungeon Travelers – It's that time of the year again for the virtually annual new To Heart 2 OVA series. Dungeon Travelers is based on the game of the same name which in turn was originally based on Final Dragon Chronicle Guilty Requiem from the Manaka de Iku no!! fandisk. I've actually played quite a bit of it. Basically Takaaki and gang get caught up in Maaryan's shenanigans again. They end up "diving" into this fantasy RPG but something happens and they get stuck in the game. It's a simple but pretty amusing game and I made it up to the Ruri fight. Looking forward to RPG silliness and everyone in fantasy garb.
.hack//The Movie: Sekai no Mukou ni – I've been following the dot hack franchise loosely since the beginning so of course I want to check this out. The basic story is going to be more or less the same as always but I did enjoy the recent Quantum OVA so hopeful for this one as well.
Yuri Seijin Naoko-san – Watched the original OVA of this and I have to say it was incredibly odd. Kinda curious if this will make anymore sense.
Gyo – I've read a few of Itou Junji's short stories and they are always bizarre and strangely creepy in a great way. I haven't read Gyo so looking forward to freaking out to I don't even know.
Minori Scramble! [PV] – Mainly picking this up since I'm already watching the other two Anime Bunko shows so I figure I might as well finish them all off.
Hidan no Aria Special [PV] – This show gets a bit of hate but I for one found it at least entertaining. This episode features hot springs and probably the typical harem hijinks.
Toradora! Special – Don't really know what this is supposed to cover but I'll take another episode.
Steins;Gate Special – See Above
Denpa Onna to Seishun Otoko Special – See Above
Ura Mirai Nikki – See Above
Top wo Nerae! Special – See Above
Atlanger – Pretty much watching this for the slight OreImo connection.