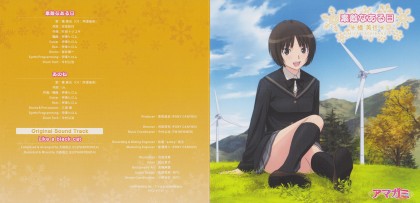 Here's Miya's second song which translates to something like You Know. A good portion of the song reminds me of the kitty part of her episode so I could imagine it being played as an insert song. Anyway look forward to more play biting tomorrow!

Romaji
Migite Manma nikuman
Mugumugu Fudanki no sekai
Hanbun Jouzu ni wakete ne
Hokahoka Attakai uchi ni
BOODO GEEMU demo shiyou yoo
Shoubu Shoubu! Iku yo
Ichinichijuu Kuro nyanko no you ni
Amaechau yo
Tanoshii Jikan Nemuru made
NOOTO Rakugaki darake
Utouto Seifuku no sekai
Dare darou? Sugoku Tanoshisou
Ii mon Saki kaeru kara ne
Michikusa bakari shitetara
Aryarya Maigo Tohoho
Sagashi ni kite Gohan no mae ni
Issho ni kaero
Yuuyake Karasu Ii nioi
Tama ni wa hora Ano nyanko no you ni
Amagami suru
Yasashii Egao Daisuki da yo
English Translation
In your right hand's a meat bun,
Nibble nibble, a world of casual wear.
Split it in half properly, okay?
It's steamy hot in the center.
Let's play a board game!
A game, a game! Let's go!
Throughout the day like a black kitty,
You act completely spoiled,
Having fun until bedtime.
A notebook filled with scribbles,
Dozing off, a world of uniforms.
Who is it? Looks like you're having tons of fun.
It's fine so I'll go on home ahead, okay?
While loitering on the way back,
Oh my my, a lost child, how sad.
Going to search before dinner,
Let's go home together,
The classroom smells nice during sunset.
Once in a while, see, like that kitty,
I play bite,
I love that gentle smile.
Kanji
あのね
作詞:Ur./作曲:伊東ヒロム/編曲:伊東ヒロム/
歌:橘美也(阿澄佳奈)
みぎて まんまにくまん
むぐむぐ ふだんぎの世界
はんぶん 上手にわけてね
ほかほか あったかいうちに
ボードゲームでもしようよぉ
勝負っ 勝負! いくよっ
いちにちじゅう くろにゃんこのように
あまえちゃうよ
楽しい 時間 眠るまで
ノート らくがきだらけ
うとうと 制服の世界
だれだろ? すごく楽しそう
いいもん 先帰るからねっ
みちくさばかりしてたら
ありゃりゃ まいご とほほ
さがしにきて ごはんの前に
一緒に帰ろ
夕焼け カラス いいにおい
たまにはほら あのにゃんこのように
アマガミする
やさしい えがお だいすきだよ