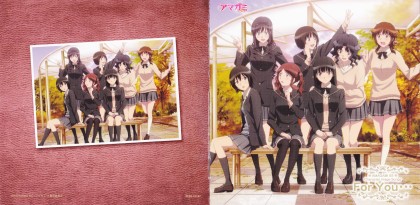 Today's post is the third and last of Haruka's songs from the original Amagami SS. It's a really pleasant song to listen to. Please enjoy!

Romaji
Koi no hanabira ga futatsu
Nakayoku kaze ni fukareteru
Yorisotte yureru
Jareau jikan wa itsu mo
Yasashiku kokoro tsutsukomu
Kanjiru nukumori
Nukedashite kimi to futari Ima demo wasurenai mune no takanari
Endless fallin'love Kirakira hikaru egao ga suki
Shiawase wa itsu demo soba de kagayaiteru Kawaii hitomi
Sasayaite kureru namae
Mada sukoshi tereteru no kana?
"Hora! Kocchi wo mite ne"
Omoikiri amaete mita Uketomete kureru to shinjite ita no
Always feelin'love Tokimeki itsu mo kanjiteru yo
Taisetsu na kimi he no kimochi nani ga atte mo Kawaranai kara
Koi no hana wa kareru koto wa nai Donna toki mo soba ni ite ne
Watashi no kawaii Darling
Endless fallin'love Kirakira hikaru kimi no egao
Doko made mo tsunaida omoi tsudzuite yuku Hanarenai kara
Kore kara saki mo zutto futari
Itsu made mo suteki na jikan sugoshite yukou
Daisuki My Darling
English Translation
Two petals of love,
Get along blowing in the wind,
Getting closer together and swaying.
Whenever we flirt I always,
Get wrapped by your gentle heart,
And I can I feel your warmth.
Sneaking out with you, even now I won't forget the throbbing in my chest.
Endless fallin'love, I love your brilliantly glittering smile,
Happiness is always shining nearby within your cute eyes.
Whispering my name,
Are you still a little shy?
"Hey! Look at me, okay?"
I tried acting spoiled with all my heart believing you would accept it all.
Always feeling'love, I always feel my heart racing,
No matter what happens to my precious feelings for you nothing will change.
The flower of love will never wilt, through good times and bad stay by my side,
My Cute Darling.
Endless fallin'love, your smile glitters brilliantly,
Our connected thoughts continue on endlessly because we won't ever be apart.
From now into the future we'll always be together,
Let's go spend our Wonderful Days together forever,
My Beloved Darling.
Kanji
Wonderful Days
作詞:伏見和行/作曲:M-TAKU/編曲:悠木真一/
歌:森島はるか(伊藤静)
恋の花びらが二つ
仲良く風に吹かれてる
寄り添って揺れる
じゃれ合う時間はいつも
優しく心包み込む
感じるぬくもり
抜け出して君と二人 今でも忘れない胸の高鳴り
Endless fallin'love キラキラ光る笑顔が好き
幸せはいつでも側で輝いてる かわいい瞳
ささやいてくれる名前
まだ少し照れてるのかな?
「ほら!こっちを見てね」
思い切り甘えてみた 受け止めてくれると信じていたの
Always feelin'love トキメキいつも感じてるよ
大切な君への気持ち何があっても 変わらないから
恋の花は枯れる事はない どんな時も側に居てね
私の可愛いDarling
Endless fallin'love キラキラ光る君の笑顔
どこまでも繋いだ想い続いて行く 離れないから
これから先もずっと二人
いつまでも素敵な時間過ごして行こう
大好きMy Darling