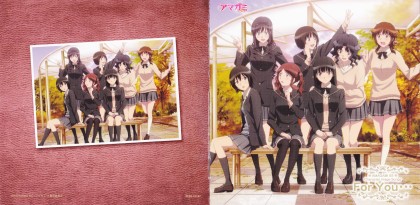 Today Sae gets another round in the spotlight. This song fits the events of her final episode incredibly well and it's fun to imagine all the odd things that happen to her. Anyway please enjoy it and look forward to tomorrow's song as well.

Romaji
Sotto me wo tojireba Kokoro no sukima ni
Ginmaku yurayura Koi no monogatari
DORESU no suso wo funda toki
Yasashiku dakitomete kureta
Oujisama mitai suteki deshita
Kokoro no KAMERA ni utsusu DORAMATIKKU na koi
Subete ga kirameite
MERII GOO RAUNDO nakute mo Anata no tonari nara
Ohimesama ni nareru
Hayari no uranai Uwasa no JINKUSU
Shinjite shimau no Yuuki daseru you ni
Umaku ienai Onegai mo
Anata to futari Shiawase mo
FOTO FUREEMU ni fueru hohoemi mo
Kokoro no FIRUMU ni nokoru FANTAJIKKU na koi
Akai ito ga tsumugu
Gyutto te wo tsunaide yukeba Nan ni mo kowaku nai
Machijuu ga EKISUTORA
ENDO ROORU ga nagaretara
Ano toki no KISU omoidasu
Oujisama mitai suteki deshita
Kokoro no KAMERA ni utsuru
Watashi wa kirei desu ka
Kanojo ni miemasu ka
Gyutto mune no oku ni furete
Anata ni todokeru wa
"Anata ga daisuki yo"
English Translation
If I gently close my eyes, within the gaps of my heart,
The silver screen slowly sways, showing a love story.
When I stepped on the hem of my dress,
You gently caught me,
You were dreamy like a gallant prince.
A dramatic love is captured by the camera of the heart,
Everything glitters,
Even without a merry-go-round if I am next to you,
I can be a princess.
The fortune-telling in fashion, the rumored jinx,
I believe them completely, hoping that I can be courageous.
I can't say my wishes very well,
And I'm happy when I'm with you,
And the smiles increase within the picture frame.
A fantastic love is left on the film of the heart,
The red string spins,
If I go with your hand held tight there won't be anything to fear,
The whole town is extras.
When the credits roll,
I'll remember that time we kissed,
You were dreamy like a gallant prince.
Captured by the camera of the heart,
Am I beautiful?
Do I look like your girlfriend?
I can feel the tightening deep in my chest,
It'll reach you for sure,
"I love you so much!"
Kanji
Love Scene
作詞:Ur./作曲:津波幸平/編曲:津波幸平/
歌:中多紗江(今野宏美)
そっと目を閉じれば 心の隙間に
銀幕ゆらゆら 恋の物語
ドレスのすそを踏んだ時
優しく抱きとめてくれた
王子様みたい素敵でした
ココロのカメラにうつす ドラマティツクな恋
すべてが煌めいて
メリーゴーラウンドなくても あなたの隣なら
お姫様になれる
流行りの占い 噂のジンクス
信じてしまうの 勇気出せるように
うまく言えない お願いも
あなたとふたり しあわせも
フォトフレームに増える微笑みも
ココロのフィルムにのこる ファンタジックな恋
赤い糸が紡ぐ
ぎゅっと手をつないでゆけば なんにも怖くない
街中がエキストラ
エンドロールが流れたら
あのときのキス思い出す
王子様みたい素敵でした
ココロのカメラにうつる
私はきれいですか
カノジョに見えますか
ぎゅっと胸の奥に触れて
あなたに届けるわ
「あなたがだいすきよ」