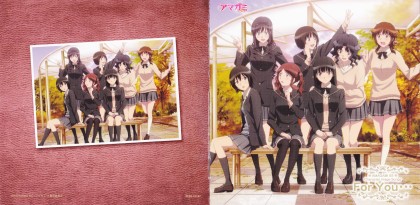 Christmas Eve brings Rihoko's For You song. I actually had to rewatch her arc because I was unsure if there was a secondary meaning behind "love" and "charm" which I had forgotten. Turns out it had to do with the made up story the older tea club members told Rihoko concerning choux crème. Anyway I hope she has better luck in Amagami SS+ plus. Please enjoy this nice song.

Romaji
Aozora KYANBASU Tondeku
Hikoukigumo Nazoru Anata no heya
Mikakeru dake demo Ureshii
Soba de sogoseta nara Sore ijou da yo
Sukoshi demo Kirei ni naritai to omou
Amai kimochi
Hikari sagasu Himawari mitai ni
Itsu mo anata dake wo mitsumeteru yo
Ima made yori Chotto Amaku hohoemu hibi
Onaji kimochi kanjitai
Daisuki Anata to issho ni
Tokubetsu na jikan Nagarete
Omoide fuete yuku KORUKU BOODO
Dare yori anata ga suki da yo
Soba ni ireru koto ga shiawase na no
Sukoshizutsu Kusuguttai hodo chikadzuita
Amai kisetsu
Ichinenjuu Taiyou mitai ni
Itsu mo watashi no kokoro Terashite ne
Ima made yori Zutto Taenai egao no hibi
Itsu ka anata ni tsutaeru
I love you, forever
I will be with you…
Sasai na koto demo Takaramono da yo
Adokenai kao mo Oboeteru yo
Hikari abita Himawari mitai ni
Itsu mo anata no tonari de kagayaku
Ima made yori Motto Te wo tsunageru kyori de
Motto amaku naru you ni
"Ai" to "Omajinai" komete
Daisuki Anata to issho ni
English Translation
Flying in the canvas of the blue sky,
I trace the contrails to your room,
Even if I only catch a glimpse I'm happy,
If I can spend time next to you that is all I need.
I think I want to become prettier even if only by a little bit,
Sweet Feelings
Like a sunflower seeking the light,
I gaze only at you always.
More than ever you smile a little more sweetly day after day,
I want to feel the same feelings,
I love being with you.
This special time flows,
And the memories increase on the cork board,
I like you more than anyone else,
Being able to be next to you is my happiness.
Little by little we got so close it's embarrassing,
Sweet Season
All year round like the sun,
Illuminate my heart always, 'kay?
More than ever your smile never fades day after day,
Someday I'll tell you,
I love you, forever
I will be with you…
It's trivial but it's my treasure.
I've etched your innocent smile into my heart too.
Like a sunflower bathed in light,
I shine by your side always.
More than ever with a distance in which we can hold hands more,
So that things will be sweeter,
I put in "love" and "charm" together.
I love being with you.
Kanji
Sweet Message
作詞:Ur./作曲:伊藤玄将/編曲:後藤康二/
歌:桜井梨穂子(新谷良子)
あおぞらキャンバス 飛んでく
ヒコーキ雲 なぞる あなたの部屋
見かけるだけでも うれしい
そばで過ごせたなら それ以上だよ
すこしでも きれいになりたいと思う
あまいキモチ
光さがす ひまわりみたいに
いつもあなただけを 見つめてるよ
いままでより ちょっと あまく微笑む日々
同じ気持ち感じたい
大好き あなたと一緒に
特別な時間 流れて
思い出増えてゆくコルクボード
誰よりあなたが好きだよ
そばにいれることが 幸せなの
すこしずつ くすぐったいほど近づいた
あまいキセツ
一年中 太陽みたいに
いつもわたしの心 照らしてね
いままでより ずっと 絶えない笑顔の日々
いつかあなたに伝える
I love you,forever
I will be with you…
些細なことでも 宝物だよ
あどけない顔も 覚えてるよ
光浴びた ひまわりみたいに
いつもあなたの隣で輝く
いままでより もっと 手をつなげる距離で
もっとあまくなるように
"愛"と"おまじない"こめて
大好き あなたと一緒に