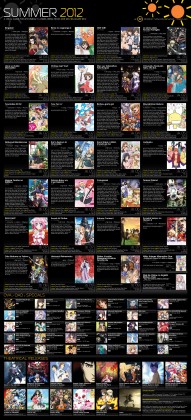 [Source]
It's only a few days until the start of the new season and I have set aside my ever growing backlog of anime in a rush to finish this post. As I have been unusually busy in the past month I haven't had a chance to check a lot of the source materials. This list actually had a few more series originally but I'm trying to actively scale back my anime viewing for various reasons such as those mentioned in the previous sentences. As usual I did not list anything which has already started while also choosing to include things that will be out in September. I've also decides to forgo commentary on some of the listed OVAs as there isn't anything for me to say beyond I'm watching them because I am watching the main series. Well anyway, enjoy my ramblings.

Watching to Death
Muv-Luv Alternative Total Eclipse [PV1] [PV2] [PV3] #TE_anime #muvluv
I'm sure people are tired of hearing me say this but Total Eclipse is my most anticipated anime of the year. Ever since I heard Muv-Luv was getting an anime I've been eating up every last shred of news that has come out. Sure, Total Eclipse is not the main Muv-Luv "trilogy" I so adore but it's still a spin-off of my favorite visual novel ever. There are things that can't possibly featured for various reasons that would take massive spoilers to explain but even still there is plenty to look forward to. Even if it only captures some of the qualities that endeared me to the first Muv-Luvs I will be satisfied.
Given that Total Eclipse takes place before the events of Alternative we won't get to see certain key technologies in action but that is okay. Thanks to Project PROMINENCE we'll get to see a showcase of prototype testing to slightly make up for that. That also means I'm expecting it to start off more like Unlimited since there won't be much direct BETA conflict at least at the beginning. That's the direction the manga took though I also expect the BETA eventually. Speaking of which I wonder what the BETA look like animated. We haven't actually got a real look at how they will appear like in the anime which has me on edge. So many horrible scenes from Alternative involving the BETA still make my stomach churn. I'm not too familiar with Total Eclipse's story so there's a good chance I'll start freaking out if I witness firsthand that those types of scenes do in fact also happen in Total Eclipse (I'm betting they do) especially if they opt to show them happening onscreen.
Obviously I would love to see Takeru's whole story animated eventually too but I'm not sure how likely that'll be at this point. At the very least I hope Total Eclipse becomes successful enough to get the other Muv-Luv stories such as those featured in this Alternative Chronicles video animated (I'm looking at you Euro Front). In the short term however I'm at the very least looking forward to finally meeting two of Kasumi's "sisters" and watching the entirety of the test fight between the XFJ-01a Shiranui Type 2 Demonstrator (Yuuya) and Su-37UB Terminator (Inia and Cryska) that is only shown for a few seconds during the PVs. I'll also be on the lookout for references to the other teams and âge in general.
Yuru Yuri ♪♪ [PV1] [PV2] #yuruyuri
Although there were other quality shows in 2011 Yuru Yuri was my favorite anime of last year. I'm not saying it's objectively the best but my enjoyment of the series was on a whole different level compared to everything else. I've rewatched it several times, which is a feat by itself since I almost never rewatch anything, and end up laughing like a little girl every single time. Yuru Yuri's comedic style reminiscent of Minami-ke but with more gay easily helped me fall deathly in love with the super fun and charming characters. As such it's no surprise its sequel would rank so high on this list. Just watching the PV for the new OP has my giddy with anticipation (it's so catchy). All this has to do is deliver more or less what the original brought to the table for me to be laughing silly each week: among other things, more Akari~n, more Mirakurun and more TOSHINOU KYOUKO!
Definitely Watching
Tari Tari [PV1] [PV2] [CM] #taritari
There are of course other shows I want to watch from this season too but my excitement for them pale in comparison to the above two since it's kinda hard to contend with favorites after all. With that said Tari Tari would easily top my list if those two were airing in another season. I just love the idea of music bringing people together and music in general so that always works in a show's favor as far as garnering my attention is concerned. From what I have seen from the PVs thematically it seems somewhat similar to Hanasaku Iroha which is absolutely okay since I love that show. The fact that the staff is pretty much the same between the two also helps.
Moyashimon Returns [PV] #moyashimonR
I didn't watch Moyashimon while it was originally airing but I've had the pleasure of watching it twice fairly recently, once by myself and once with friends. Honestly the show and the characters themselves can be quite disgusting at times but I was in love with everything by the end. As a biology major it also sorta reminded me of my college life which just adds to the entertainment value since I could actually relate to various things. There's still a lot to explore given how the first season ended so I'll be looking forward to how things develop further microbial and macroscopic alike.
Dog Days' [PV] #dogdays
A lot of people hated Dog Days when it was airing but my friends and I quite enjoyed it. From the very start I've wanted Cinque's friends from his world to join him on his adventure. Judging by the PVs it is finally going to happen and better yet my wish of having his cousin becoming the heroine of Galette seems to have come true. There's so much potential to be had. The war games themselves will be fun but I wonder in what manner those giant final boss monsters will factor into the show. Monster sealing with Yukikaze would be cool.
Kokoro Connect [PV] #kokoroco
I've been interested in the novel since it was first released but I haven't had a chance to read any of it so it'll be a nice surprise to see what everything's all about. The only thing I know for sure is the body switching aspect which has potential for awkward comedy and possibly drama.
Ebiten: Kouritsu Ebisugawa Koukou Tenmonbu [PV] #ebiten
Likewise Ebiten is a manga I have been interested in for a while since it reminds me of Seitokai no Ichizon. Admittedly those two series only share the same artist but thumbing through a few chapters I get the impression that the general sense of comedy is similar enough that I can see myself jumping right in.
Sword Art Online [PV1] PV2] #sao_anime
I don't have firsthand experience with Sword Art Online but since I have a friend who has worked on the novel translations I have enough secondhand knowledge to know it's something I would be interested in. I also have a rough idea of what to expect from the setting design and writing thanks to watching Accel World and I can say I am okay with this. Speaking of which I'll probably try to watch both shows back-to-back each week for a double session of virtual reality gaming. It'll also be interesting contrasting the aesthetics of the two shows not to mention the 24 year difference between technologies.
Kyoukai Senjou no Horizon II [PV] [Broadcast Spot] #kyoukaisen
I wouldn't say I am super excited or anything but at this point I'm committed to trying to figure out what everything is all about because for all I know it could be brilliant and/or incredibly dumb. There's a bunch of facepalm-worthy things that happen in the series but at the same time there are things I like about it such as the two Hondas, especially Masazumi, that keep me interested. Oh yeah, there are also silly sounding things like lesbian witches fighting a mecha that are cool too. It's really weird describing what I find fascinating honestly.
Koi to Senkyo to Chocolate [PV] #恋チョコ
This is another series I don't have any personal knowledge about but enough people I know are into it that it has piqued my interest. Really I don't know what to expect specifically but I'll trust others' opinions for this show.
May Watch Eventually
Rinne no Lagrange 2 [PV1] [PV2] #kamojo
Although I was interested in it when first aired I decided to hold off watching Rinne no Lagrange. However multiple people have told me again and again that it's something that I would enjoy and from what I now know of it I would have to agree with that assessment (yuri plus mecha is like one of my winningest combinations). I don't know how things got that way (yet) but I can at least say the new PVs look cool and has the potential for the type of drama I do like. If I can figure out a good way to squeeze it in I'll strongly consider catching up on the first season so I can get into the second season.
Movies for Later
Mahou Shoujo Lyrical Nanoha: The Movie 2nd A's [Advance Notice Movie] [News Flash Movie]
It should be pretty obvious that I am a big Nanoha fan so this is the clear choice for the top of my movie list. It's essentially been on my radar ever since I watched the first movie and started imagining how A's would look like in movie form. A's is my favorite Nanoha TV series so every new trailer has had me going crazy over every little detail and fangasming at all the things that I'll get to see: the Wolkenritter especially Vita, the cartridge system upgrades, A.C.S. and Sonic Form, Reinforce, etc.! If the home release follows the same pattern as the first movie I shouldn't have to wait too long after the theatrical release to see the movie for myself in all of its glory. Oh God, I wonder what Hayate will look like and how insane the final battle will be. I'm going to be yelling out so many special attacks while I watch!
Mardock Scramble: The Third Exhaust [PV]
Unfortunately for me the Mardock Scramble movies get released like a year after their theatrical debuts so I'm assuming I'll be watching this in the middle of 2013. I suppose the good news however is that I have The Second Combustion to look forward to in its place in a few months. I also bought a compilation of the 3 novels the other day so I can read those after watching the second movie. I can't wait to see how Rune Balot's story ends.
Ookami Kodomo no Ame to Yuki [Advance Notice 1] [Advance Notice 2] [Advance Notice 3] [News Flash 1] [News Flash 2] [News Flash 3]
The concept itself looks like it'll be made of warm and fuzzy feelings and I absolutely adore things which feature maternal love. It also happens to be by the same director as Toki wo Kakeru Shoujo and Summer Wars. I don't think I really have to say anymore.
Pokemon Best Wishes! the Movie: Kyurem vs Seikenshi Keldeo [PV1] [PV2]
I always watch the movies since they're usually enjoyable and I love the franchise.
OVAs/Specials
Boku wa Tomodachi ga Sukunai: Add-on Disc #haganai
It's clear from the preview pics that this OVA is based on the story relay chapter. Considering the amount of horribly questionable content in that chapter it makes sense that they would use it for the OVA. I don't remember how much I laughed. I just remember feeling so sorry for Sena by the end ;_;
Accel World OVA [PV] [CM] #accel_world
Accel World Special #accel_world
Papa no Iu Koto wo Kikinasai! #papakiki
Shinryaku! Ika Musume #ikamusume #geso #イカ娘
Persona 4 The Animation No one is Alone #P4_A
They left the true ending out of the TV run so of course I need to watch this.
Code Geass: Nunnally in Wonderland [PV]
I'm a sucker for Alice in Wonderland stories so of course I will watch this even if it's just silly nonsense.
Code Geass Gaiden: Boukoku no Akito [PV]
I remember when this was first announced years ago. Unfortunately it's just an OVA but that's better than nothing as far as serious Geass is concerned I suppose.
Katayoku no Khronos Gear
I'm watching this for the power suits. Not sure what else to expect.
Otome wa Boku ni Koishiteru: Futari no Elder
Crossdressing at a high-class girls' school is just a combination I like.
Dantalian no Shoka: Ibarahime #dantalian
Nogizaka Haruka no Himitsu: Finale
I don't even remember much of the second season at all (did anything important even happen?) but I guess I'll see how it all ends.
To LOVE-Ru Darkness OVA #toloveru_d
To be honest I don't even really like To LOVE-Ru but I do like a few of the characters namely Yami and Mikan so I'll watch it anyway.
Hyouka