No lead-ins, no explanations this time. Let's cut to the chase.
Early lineart for the GUNDAM 00 SEASON TWO MOBILE SUITS has been RELEASED!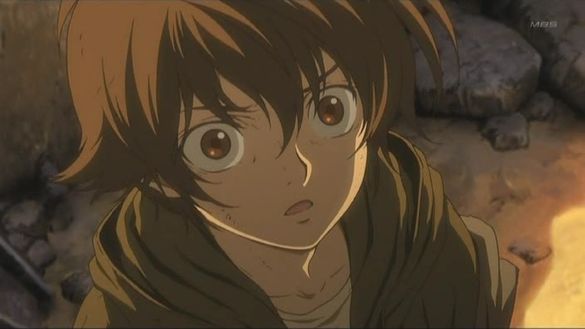 That's right, lil' Setsuna. You KNOW you want to see this. Commentary straight from a raving Gundam fanboy after the break!
First off, clearing up my source. I collected this art from www.mahq.net, a fansite that, while somewhat dated in its layout, is almost always trustworthy. I have excellent reason to believe this art is official.
Also, while I'll be including my commentary, it will NOT be a sophisticated design analysis or contain any speculation about the plausibility of the design. I'm an English major, not an Engineering student. Mecha anime isn't about physics anyway.
So, let's roll out the new Gundams. First off, the unsurprising full reveal of the 00 Gundam!
This one… actually disappoints me a little, considering that it's clearly derived from the Exia, which was probably my favorite of the Celestial Being mobile suits by the end of last season. The legs look too chunky, but then the feet look too small… and what the hell is on its shoulders? GN Drives!?! The rotating shoulder-mounted GN Drive on Graham Aker's GN Flag was a rather slick design, but this is plain ridiculous. I bet it can spread force fields out of them, kind of like Xingke's Shenhu in Code Geass. Jeez, more Gundam-Geass crossover…
According to the information, Setsuna F. Seiei is confirmed to return as this machine's pilot, probably after a few lead-in episodes in order to kill off Neena or have Setsuna Gundam-jack this thing from her. Despite the fact that all Gundam Meisters use codenames and that Setsuna sure acted like he was dead at the end of season one, I fully expect this Setsuna to be the same one we already know and love. 
Also, it's confirmed that this design was penned by Kanetake Ebikawa, which just adds to the disappointment. I expected more from someone like him. But it might just be a matter of warming up to this one. I thought the Exia was a little bland in its static lineart, but just awesome in action or as a 3-D model. Besides, I always end up loving the "hero mechs" with their blue-and-white color schemes – including the Turn A Gundam, which many consider the ugliest Gundam of all time.
And now to introduce something brand-new… Arios Gundam!
Sexy.
Seriously, if you don't think this is a good-looking Gundam, then I don't have time to waste with you. The original Kyrios was a bit too soft-edged in its design – maybe to make it look more "realistic" or something, but in the end the design just looked compromised and unappealing. Arios is aggressive in every single one of its sharp lines, correcting the mistakes of its predecessor. Add to that a sweet orange color scheme (of course) and in all likelihood, the ability to transform into a "Wave Rider" mode just like the previous model, and you've got my early favorite Gundam for next season. Can't wait to see Allelujah at the controls of this one – it'll definitely be Allelujah, since he was the only Meister who didn't have anything that even resembled a "death scene" at the end of last season.
There's just ONE VALID CONCERN about this design, and that is that it looks an awful lot like the Saviour Gundam from Gundam SEED Destiny.
Wait, Gundam SEED Destiny never happened. Forget I said anything.
Moving on, here's Keldim Gundam!
Ah, I have mixed feelings as I look at this Gundam, built from the remnants of Lockon (Rock on!) Stratos' quasi-sacred Dynames. It's almost destined to be badass and a fan favorite for that reason alone, and it's not that I'm completely disappointed with its design but… hmm, I just don't think it's quite as attractive as the old Dynames. The weird feet and the GIGANTIC shin and knee armor are kind of off-putting, and it almost seems like that armor is too heavy for a sniping-purpose mobile suit. Considering that the pilot is listed as "Lockon Stratos," it's safe to assume that sniping IS this thing's purpose. What I'm more interested in knowing is, who has the codename "Lockon Stratos" this time around? Is it Lyle Dylandy? Or is it Feldt? I'm really hoping it's the latter…
Anyway, here's the last one, Selavii (Serabii?) Gundam.
Well, it's pretty clear that this is the successor to Gundam Virtue… and honestly, I have the least to say about this one. It looks quite a bit like the model it replaces… and it's likely to have the same features, including a giant bazooka and a lightweight "speed mode" transformation. There will probably be some people accusing this design of being unoriginal, but I'm going to show some sympathy for the artist here. How do you beef up the armor on a Gundam that already had maximum armor? How do you create a new and exciting take on heavy artillery? The appeal of this one, like the 00 Gundam, is going to hinge on what it can do in action during the next season.
Also, Tieria Erde is listed as the pilot for this machine – almost certainly the same Tieria from last season. I say that there's no way Sunrise can kill off Tieria before he confronts Ribbons (Fucking Ribbons!) in an epic sequence that begins with a tell-all about their respective origins and ends with a climactic duel to the death between the two androids. C'mon, you can't seriously tell me that Tieria and Ribbons AREN'T androids, can you?
Anyway…
On the whole, these are acceptable designs. There's only one real disappointment among them – the 00 Gundam itself – and only one home run – the Arios Gundam – so it averages out. Considering the approach they took to this new round of designs – reimagining the previous designs instead of starting from scratch – I suppose this is the best they could do. Moreover, these Gundams have a more "traditional" look to them than the relatively unconventional designs from the first season. It's aesthetically conservative, a motif that may not spark a blazing fire of passion in anyone's soul, but one that I can agree with. All Gundam 00 has to do next season is not fail or jump the shark and it'll go down as one of the better Gundam series of all time, and the judgment begins with the mech designs, so it's not time to push the envelope in that respect. This isn't a parade of wonderful designs like Endless Waltz, but then, it's a far cry from the lackluster designs of Gundam SEED as well.
Ah…
Actually, this has turned into quite a long post, which is kind of embarrassing since I'm sure I'm not the first fanboy to uncover this information, nor are my comments the most insightful. But Gundam always tends to make me set life and logic aside for a while, so you'll have to forgive me for this rant and the ones to come as Gundam 00 Season 2 airs – as I'll definitely be following it on a week-to-week basis.