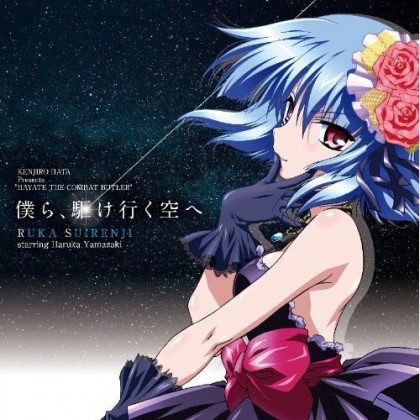 This song came out along with the movie theme song but strangely enough I have not been able to find it anywhere except on the usual video sites. As such my translation is based off of the lyrics I have found online which all seem to be in agreement with one another but like always I will update this if need be. As before with the theme song, I tried to stay consistent with the material by translating "hayate no gotoku" as "like a gust of wind." That is all. Have fun with this song until the movie comes out on disk whenever that may be.

Romaji
Sashidasu te ni furete ii kana?
Mayoinagara nobasu yubi ni
Tobira hiraku kaze Fukinukete yuku
Kitto, Sorenari
Chanto, Isshou kenmei
Ikite kita ki ga shiteta
Takanozomi nado shinai no ni
Kamisama wa honto Ijiwaru da
Yume to genjitsu wa Tsune ni funaka de
Docchi ni tsuku ka Mayou keredo
Kono ryoute de tsukameru mono
Omoikiri dakishimetetai
Tsumazuite mo Mata waraeru
Kimi ga ite kureru kara!!
Natsu wo hakobu kaze no gotoku
Kono jidai wo kakenukeyou
Bokura ga tobu sora
Hirogatte yuku
Soba ni iru to Dokidoki no isshun made
Nichijou ni natte shimau kedo
Hontou wa unmei ni kansha shiteru
Hoshi ni hokoreru deai da to
Yuzurenai no wa "Mamorinuku koto"
Kimi ga michibiite kureta kara
Hora Yobu koe Kikoeru kana?
Kumo no aida wo surinukete
Kimi he todoke!
Omoitobase!
Mienai kabe kowashite
Dono shunkan mo minogasenai
Hayate no gotoku kakenuketa
Bokura no jikan ga Kasanatte yuku
Kagerou no naka Yureru bokura
Memai no naka de me wo fuseta
Toorisugiru natsu no keshiki
Owaranaide…To sakenda
Tobira hiraku Sono saki ni mo
Kimi no egao ga aru you ni
Massugu chikau yo!
Kakeyuku sora he
English Translation
Can I touch the hand being held out to me?
While I'm lost the breeze opening the door,
Blows through the straightened fingers.
Surely, Accordingly,
Properly, With all my heart and soul,
I felt that was how I lived my life.
I don't ask for too much and yet,
God is really mean.
Dreams and reality are constantly in discord,
I'll be lost no matter which I cling to but…
The things I grasp with my hands,
I want to keep holding them with all my heart.
Even if I stumble I can smile again,
Because you are here with me!!
Like a gust of wind carrying summer,
Let's run past this age.
The sky we soar through,
Extends onwards.
When I am near you, Down to the moment that my hearts pounds,
Things become completely ordinary but,
In truth I thank fate for,
"An encounter I can boast of to the stars."
What I can't surrender is "Protecting things to the end,"
Because you showed me the way.
Hey, Can you hear the voice calling?
Weave between the clouds,
Let it reach you!
Let my feelings fly!
Tear down the invisible walls,
I can't overlook any moment.
Like a gust of wind we ran past,
And our times overlap.
We sway in the heat haze,
And in a dizziness I covered my eyes.
The summer scenery rolls by,
And I cried out "Don't end…"
Before the door even opens,
And so that you'll have a smile,
I vow honestly,
To the sky racing away!
Kanji
差し出す手に触れていいかな?
迷いながら伸ばす指に
扉開く風 吹き抜けて行く
きっと、それなり
ちゃんと、一生懸命
生きて来た気がしてた
高望みなどしないのに
神様はホント 意地悪だ
夢と現実は 常に不仲で
どっちに付くか 迷うけれど
この両手で掴めるもの
思い切り抱きしめてたい
つまずいても また笑える
君が居てくれるから!!
夏を運ぶ風のごとく
この時代を駆け抜けよう
僕らが飛ぶ空
広がって行く
側に居ると ドキドキの一瞬まで
日常になってしまうけど
本当は運命に感謝してる
星に誇れる出会いだと
譲れないのは "守り抜くこと"
君が導いてくれたから
ほら 呼ぶ声 聞こえるかな?
雲の間をすり抜けて
君へ届け!
思い飛ばせ!
見えない壁壊して
どの瞬間も見逃せない
疾風のごとく駆け抜けた
僕らの時間が 重なって行く
陽炎の中 揺れる僕ら
目眩の中で目を伏せた
通り過ぎる夏の景色
終わらないで…と叫んだ
扉開く その先にも
君の笑顔があるように
真っ直ぐ誓うよ!
駆け行く空へ