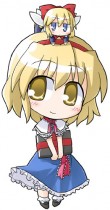 [Nicknames] 本屋, Honya, Honya-chan
[Date of Birth] January 17 1989
[Age] 17
[Origin] Philippines
[Languages] English, Ilocano, Japanese (learning), French (3 years high school)
[Location] Virginia, USA
[Occupation] Full-time NEET
[Likes] Anime (and other otaku stuff), Singing, Drawing, Translating, Computers, Learning
[Dislikes] Bullying, Boredom
[Idol Color] Purple
[Theme Song] Happy Girl
[Word] Embarrassing
I've been told that despite being such a laid back person, I am quite ambitious even though sadly the time is not always there to make it all happen. I am easily influenced by anime so I end up doing strange things to satiate my boredom like Nagi from Hayate no Gotoku! Then again, even without those influences I still end up being a weird person weak at socializing and immersed in watching too much anime and singing Japanese songs all the time although it is quite embarrassing to do so in front of the mainstream public.
I'm a recent graduate of the University of Virginia earning a Bachelor of Science in Biology. When goofing off from school I served as the very first Director of the Comics and Anime Club, CAINE, which was quite time-consuming but very rewarding. After serving for more than 3.5 years, I am now retired and you can find me as a secret boss fight EX Director Honya.
When I have the time I also work on various doujin projects. Currently my main project is my original story ATCG which I first started working on during my last semester of high school. I've taken a long time on it since it essentially connects all of my past works together and constructs the basis for any future stories I come up with. I'm an artist drawing character portraits for the Touhou doujin game Story of a Lost Sky as well.
As an artist I also want to continue to improve my computer drawing skills and one day learn to do 3D modeling. Ideally I would like to pursue my dreams of working at a video game company or having my own "manga" published without worrying about other things. Of course exploring new realms of biological understanding is fine too though I just want to stay at home and do otaku things or be a pro otaku idol.
You may also want to check out these posts, Taking a Decade Old Anime Otakuness Test and OreImo: Reminders of My Otaku Past, to learn more about me. By the way I'm also a fujoshi, an idol and an awkward game dev (possibly).
tl;dr lol Honya
My Favorites
[Properties] KEY, 07th Expansion, Touhou, K-ON!, Precure, Maria-sama ga Miteru, Mahou Shoujo Lyrical Nanoha, iDOLM@STER, Muv-Luv, Tales of game series, Metal Gear, Phantasy Star Online, Pokémon, Xenosaga
[Seiyuu] Noto Mamiko, Hanazawa Kana, Mizuki Nana, Toyosaki Aki, Tomatsu Haruka, Kugimiya Rie, Tamura Yukari, Horie Yui, Chihara Minori, Sugita Tomokazu
[Music] K-ON!, Mizuki Nana, I've Sound, SPHERE, Yousei Teikoku, iDOLM@STER, ave;new, Kuribayashi Minami, Chihara Minori
[Artists] Hinoue Itaru, Noizi Ito
About Lyrical☆Spark!
Lyrical☆Spark! was launched on September 11, 2007 originally as an assignment for my Japanese 101 class hosted on Google's Blogger Service. Before entering college and enrolling in Japanese, I had never thought about starting a blog and only occasionally read anime blogs. When blogging started to take off, I initially blew it off as nothing more than a weird trend. However after writing my first anime-related post and getting comments back from like-minded classmates, I fell in love with blogging and soon quickly outpaced the output of my classmates.
I didn't realize that my new found obsession with anime and blogging was getting attention from outside my school sphere until I noticed that some other anime bloggers had commented on my articles. I had done nearly nothing to attract other anime bloggers besides adding the blogs that I did read to my blogroll and keeping up with them.
Soon afterward I decided once and for all to join the greater anime blogger community. After struggling with the limitations of the Blogger platform for several months, I decided that I would have to switch to WordPress and get my own domain if I really wanted to get serious about blogging. On February 18, I took the plunge and bought honya-ch.com and two years worth of hosting from BlueHost.com.
That brings me up to the current state of Lyrical☆Spark! I tend to blog about otaku stuff in general though much of my focus currently is in transliteration and translation of anisongs and other Japanese songs I like. As such I'm not really in the larger Aniblogger Sphere so much as the Lyrics Translation Sphere which I am perfectly fine with. My Japanese knowledge still has plenty of room for improvement but I will maintain Lyrical☆Spark! with joy keeping it a fun experience for my readers!
「リリカル☆スパーク!」を読んでくれて本当にありがとう!
Why "Honya" and "Lyrical☆Spark!"?
Honya literally means bookstore in Japanese and comes from the nickname of my favorite anime/manga character, Miyazaki Nodoka from Mahou Sensei Negima! She is referred to by many of her classmates as "Honya-chan" due to her love of books. She is very shy but despite this is able to express her true feelings to Negi. I really admire her and in many respects wish to be like her. My love for Honya-chan can be seen in many aspects from my various online usernames as well as the domain name under which this blog is hosted.
Lyrical☆Spark! is taken from a doujin of the same name which is itself a reference to two of my favorite series. The "Lyrical" obviously refers to Mahou Shoujo Lyrical Nanoha while "Spark" comes from the Spark line of spells from Touhou. My love of Nanoha is most evident in Lyrical☆Spark!'s logo which is heavily modeled after Nanoha A's and Nanoha StrikerS's logos while my affection for Touhou is most clear in this blog's Touhou-themed headers.
My Wish List
(Current as of Jan 1, 2014)
New Microphone for Singing/Recording
Various Cosplay Items
New graphics card
Various Other Electronics
Kotatsu
My Other Accounts
(I mainly use the first 2)