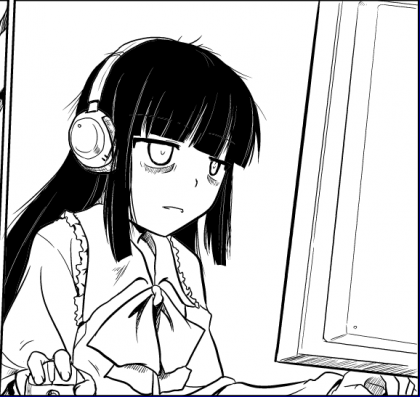 [Source]
Once again another year has passed so it's time to reflect on the past and to think about goals for the future. It seems there have been a lot of ups and downs in the past year so the review section is quite long. With that in mind the goals section is of similar length but please do stay around until the end of this wall of text.

2011 in Review
Since I began blogging in 2007 I've tried to average 9 or 10 posts a month. Unfortunately 2011 was the first year to break that tradition with only 71 posts made which hardly comes close to said monthly goal. In fact July and November had no posts at all which is kinda sad. On the lyrics translation front however I managed to finish 45 songs which is kinda close to the one song per week goal I've set for myself since starting this translation thing so it's not so bad. Of course over half of that came from August when I almost managed to do a song a day but yeah whatever. Thinking about it another way the general drop in activity can pretty much be attributed to the lack of non-lyrics posts; I wasn't able to finish writing several posts I was planning to do including other lyrics drafts which hurt.
In terms of other metrics I hit 842,243 total visits and 1,378,179 page views by the end of the year which was quite nice actually and higher than I had expected last year despite the lack of output. With that said crunching the numbers, this year had fewer visits than last year for an overall traffic drop.
During my summer trip when I really couldn't do much else of anything I ended up rolling out some blog updates I had been thinking about doing before. One of the more minor ones was bringing the About Page up to date though it still looks more or less the same. I also combined the former resources page and the full blogroll into the Links Page which isn't as customized or organized as I would like but works well enough as a stopgap until I can do something better with it.
Probably the biggest change was the addition of the Translation Request Page. This was a requested feature that I should have implemented earlier. Before requests were randomly scattered across individual posts and the Lyrics Directory but now things are consolidated. It shows the criteria I want for requests and houses the list I use for my translation queue and projects. It also makes public the fact that I take requests instead of it being a "secret" feature. I've managed to mark off a few songs from the queue though there is still much left to be done.
I also removed or replaced several plugins deemed deprecated or useless. I added a custom default avatar which shows on all pages unlike before where it only showed up on the recent comments widget. I wish WordPress supported this by default. I replaced the Twitter plugin with the official widget and added a follow button. However it obviously does not have an automated post to Twitter function. Overall all the various blog changes actually didn't change too much in terms of layout so it looks very similar to what it was like a year ago.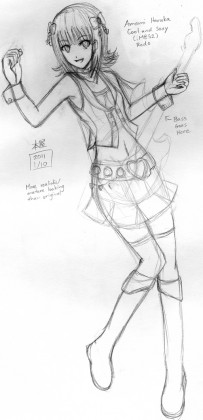 On the offline side of things I had an interesting time during my last semester as my anime club's Director. I tried to offload responsibilities gradually but I ended up doing more than I was planning to. I had a fun time working on several activities including karaoke, Family Feud, Jeopardy and Name That Tune but I really did stretch myself too thin and failed to finish the club t-shirt. The fact that I'm the one who started making club shirts in the first place only makes it worse. I felt so bad that I refused a complimentary shirt intended for the school year after I graduated. I'm extremely proud of the art I did manage to do for it like the drawing above but at this point I have no real desire to finish them even for my own needs.
As planned I finally managed to attend Otakon for the first time ever. It was a really fun experience but I was clearly unprepared. I pretty much messed up the whole cosplay plan I had wanted to do. Basically I kinda got busy with various things after graduating from college and had no opportunity to get my costume and props ready. Instead I made a makeshift lazy costume the night before.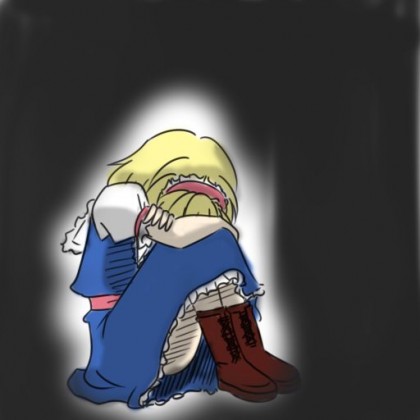 [Source]
Unfortunately real life stress as a result of various things I don't feel like mentioning at the moment have had a huge negative impact on my state of mind. Some people may have noticed on Twitter that I'll occasionally start feeling down every couple of months and start spamming depressing tweets for which I apologize. I also have a habit of avoiding all human contact when I'm depressed and I'm really sorry to all those who have to deal with my idiocy.
On the positive side of things I did manage to get significant work done on several of my other projects. For whatever reason I decided to take up scanlation for the first time in forever since I ragequit that one time. However it's been fun translating Boku wa Tomodachi ga Sukunai+ and I enjoy the team I've been working for. Somehow or another I also ended up translation checking Rosario to Vampire Season II randomly enough. I've also managed to get a few portrait drawings done for the game project I'm working on Story of a Lost Sky. Most importantly to me though has been working on my longtime personal writing/drawing project ATCG. I was not able to complete NaNoWriMo due to getting busy later in the month but I was able to extend my existing story draft by several ten thousand words. Looking back some of the writing is a little funny in places but I am super proud of my Yuri Buttsnuggle scene.
Goals for 2012
With all that review out of the way it's time to move onto a more positive topic. The idea behind 2012 will be "reinvigoration." That is to say that I will strive to reignite my motivation to work on my various projects and to increase my skills.
Return to Posting More Regularly – As far as blogging is concerned I want to try to get back to doing 9 or 10 posts a month and at least one song lyric a week. I don't foresee myself doing non-lyrics posts nearly as much as previous years. That is not to say they will be completely absent but they'll probably consist primarily of the few things I do every year plus a spontaneous post or two when I'm in the mood to write something else. In other words I'll probably increase my translation output of songs to make up the slack. There are a few dozen drafts I have yet to publish, both lyrics and non-lyrics, so I want to clear those out at some point. I want to try to also prioritize translation requests over most of my own personal songs list since I feel really bad about not fulfilling them for months on end. Assuming I can bring my output back to pre-2011 levels my traffic should also increase. I should hit 1 million visits and 500 posts sometime this year but I don't know if I want to do anything cool for them since I usually forget anyway.
Priority: High-tier
Level: Normal
Blog Additions – I also want to roll out some more changes to the blog infrastructure I was planning to. I'd like to update some older posts mainly for navigation reasons. For example recently I've started including artist tags in my lyrics posts so it would be nice to retroactively add them to older posts. It would also be nice to add a romanization guideline page since I occasionally get asked about that.
Priority: Low-tier
Level: Easy
Update Blog Visuals – On a more minor note I want to change some visuals if possible such as the header images, background images and my gravatars. I kinda accidentally designed a mascot during the summer so maybe it'd be cool to use her on the site. I also need to think of a new tagline for the logo since the old one is really out of date. Hopefully I can think of something that sounds like a magical girl transformation line incorporating my love of music and 4 girl slice of life shows.
Priority: Low-tier
Level: Normal
Donations? – Something I've contemplated every now and then is the idea of accepting donations. Not sure if getting money for my current state would be deserved but it'd be helpful for paying for hosting renewal in 2013. I really don't know if doing such a thing is appropriate so getting feedback on this would be nice.
Also would anyone want me to link all my posts to Twitter instead of just a select few?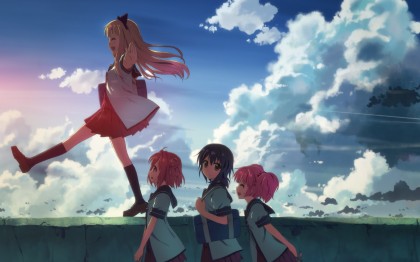 [Source]
Improve and Do More Art – As of the last few years I've kinda lost much of my interest in drawing which is terrifying considering that it's one of my major defining traits. That's not to say I don't enjoy drawing when I do do it but it's so infrequent now that I'm lucky if I feel like drawing once a month. Perhaps part of it is because I've hit a wall where in my mind I consider my skills not bad but also not spectacular. Objectively I know I've gotten better with time but I dunno. I can't really explain it but after seeing the above illustration a month or so ago some of my desire to draw has returned. I want to be able to produce this type of stuff myself within 2 years. To accomplish that I'll try to practice more including going back to basics and doing more digital work. Perhaps I'll try drawing once a day even if it's just for half an hour doing a silly little doodle.
Priority: Mid-tier
Level: Hard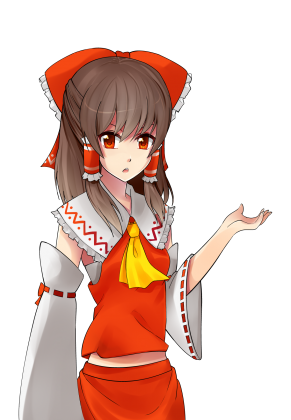 My Lineart Colored by Jamuko
Story of a Lost Sky Portraits – In related news much of the aforementioned increased drawing output will go towards finishing more portraits for Lost Sky. Since we are currently getting ready for chapter 4 stuff ideally I would like to get all materials needed up to chapter 3 drawn by the end of the year. It should also give me a chance to keep improving my digital illustration skills.
Priority: High-tier
Level: Normal
Finish Scanlation Backlog – For scanlation I want to catch up to the latest chapter of Boku wa Tomodachi ga Sukunai+ by the end of February. This shouldn't be too hard since I have very little left to do. With that said when I do catch up I want to stay away from increasing my scanlation-related responsibilities. I'll still translation check and proofread my other manga project but that is it. I may pick up more things in the distant future (2013 and beyond) but that's only if I can achieve the other goals on this list first.
Priority: High-tier
Level: Easy
Secret Project – The reason I'm hesitant to tackle anymore scanlation is because I want to start a different unrelated translation project. I don't want to reveal what it is right now since I may not even do it in the first place. All I will say is that it is related to my drawing goals.
Priority: Mid-tier
Level: Lunatic
Level Up Japanese – Of course many of these activities are contingent on my Japanese language knowledge. For the most part my language skills haven't really decayed but unfortunately they also haven't been improving as I would like. I've been too lax on my self-study without the fear of retribution from Sensei so I need to serious up again and get working. This is pretty much a time investment for better and faster work in the future so of course it's a top priority. I'll force myself to study daily even if it kills me. This is a longer term goal so it'll continue past 2012.
Priority: High-tier
Level: Hard
Mystletainn Kick – I'm planning to attend Otakon again but this time in real cosplay gear. I'll need serious help for the costume so I'll most likely will just end up begging someone else to make it for me. For that sake I'll continue Project MA which I initiated a couple months ago. I don't want to divulge details about it now but I will say that it will make the cosplay more feasible or something. Hopefully it works out as I desire since it will probably be quite difficult for me to achieve.
Priority: Mid-tier
Level: Hard
Help With Creative Writing – At some point I also want to help my best friends with their writing projects. I like to think that the three of us form a well balanced creative team. It's the least I can do for the years we've been together and my recent insanity.
Priority: High-tier
Level: Normal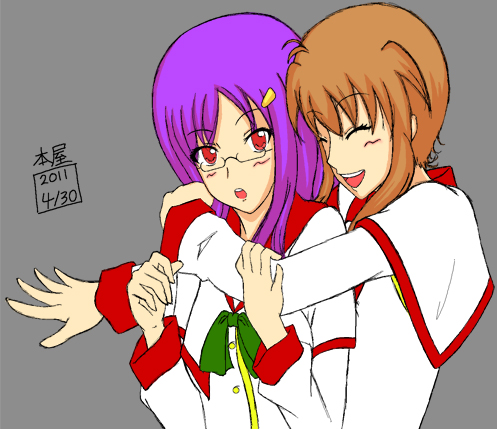 The ATCG drawing I made for the last Yuri Chalk
Delusions – Lastly I want to continue to work on ATCG. Unfortunately it's actually the lowest priority goal on this list even though it's the most important thing to me at a personal level. I guess it's because other people are counting on me for most everything else. The ATCG universe exists only in my head so I can wait even longer to share my world with everyone else. I'll just keep daydreaming about it everyday like usual.
Priority: ;_;
Level: Lunatic
Time Management – As time is a finite resource in order to accomplish many of the above goals I have outlined I will have to cut the fat as it were in other places. This will also require creating and adhering to a stricter timetable. I've been creating a weekly schedule of when to do the above tasks since I'm a creature of habit and once I get into a flow I can maintain it pretty well. I think at least an hour studying Japanese, at least a half hour of drawing and only 2-3 episodes of anime on a daily basis would be good. Tuesdays and Thursdays can be translation days while Fridays can be for Lost Sky. The other days will be left flexible for whatever I need to devote more time to and for unexpected occurrences. I'll probably also go back to analog time management with a schedule book since for whatever reason I find it easier to stick to then purely digital devices.
Priority: Mid-tier
Level: Normal
Minimize Reading – To reclaim some potential lost time I'm pretty much giving up on several backlogs at least until 2013. In terms of manga and light novels I will not read anything unless it's related to scanlation work or for when I do research for upcoming anime. This is actually incredibly reasonable since I more or less do this currently since I'm awful when it comes to reading. I occasionally get the urge to read something random but I will refrain from doing so this year.
Priority: Low-tier
Level: Easy
Play Fewer Games – For video games and visual novels I will try to go into semi-retirement levels again. I'll still play some but it will be confined mainly to stuff I have left unbeaten and new things from franchises I'm already following. For example I'll do Pokemon events no matter what since I did catch all 646 currently released Pokemon. I need the last 3 event-exclusive ones to get the full 649 after all. I've actually unexpectedly got a good number of games gifted to me through Steam so yeah I will play them eventually but probably not until later in the year. I will also try not to play games randomly when I'm not sure what to do and instead force myself to do something more productive instead.
Priority: Mid-tier
Level: Normal
Watch Less Anime – In terms of anime I don't foresee myself quitting my current habit of watching several currently airing shows per season. I'll try to cut back if possible when I'm uncertain about a show but most of the reduction in anime will come from not watching older series. Don't get me wrong. A lot of my favorite series such as Maria-sama ga Miteru and Precure have been older things I watched years later but if I am truly curious about something then that interest won't go away so easily. Basically the only old things I'll be watching are the things I've already added to MAL. All other old things will go on my "I may want to see this eventually" txt file. It's harder for me to keep up with newer stuff so I'd rather focus on those instead.
Priority: Mid-tier
Level: Normal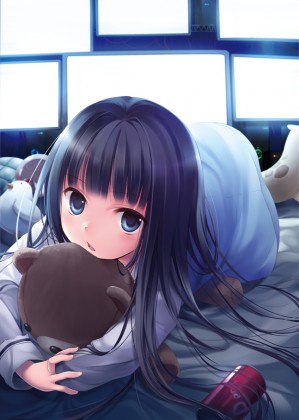 [Source]
Get a Job – It's the Only NEET Thing to Do orz
Priority: God-tier
Level: Phantasm